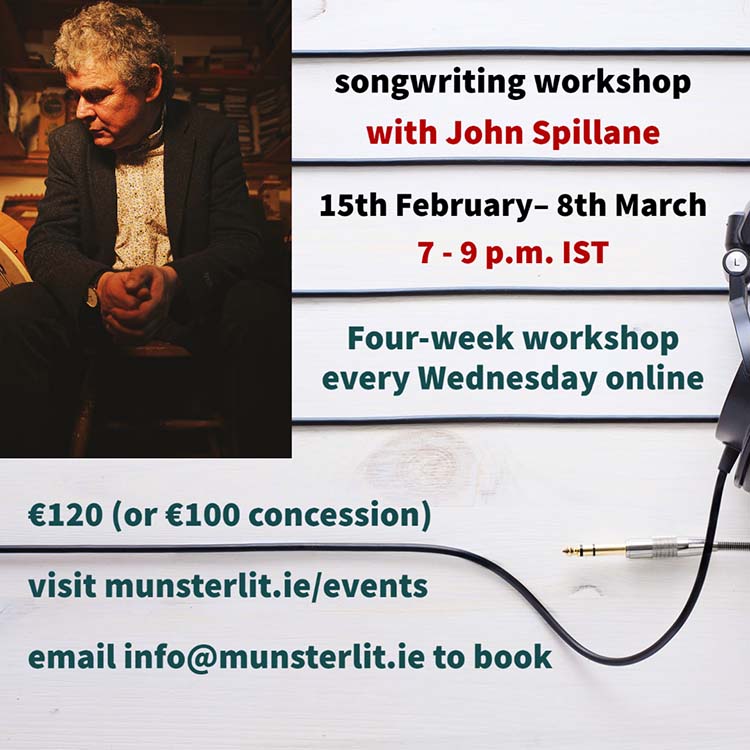 Four-week workshop on Wednesday evenings

Time: 7 – 9 p.m. (four weeks, 15 February – 8 March)
Venue: via Zoom
Class size: Maximum of twelve
Cost: €120 or €100 (concession to unwaged)

This is an online workshop, open to anyone in the world. You will need to have access to a laptop / tablet / phone / computer) which has a microphone, speakers and camera in order to participate in the workshops.
PROSPECTUS
At my workshops we do not talk about writing songs, but we actually write songs. I have developed this method over many years, and I find it's great for freeing up people who are blocked and for learning how to work the songwriting muscles. We go through the following steps:
Deciding on a theme. I suggest loads of themes or people can pick their own themes. We move swiftly and decisively. The only rule that applies to the workshop is that you are not allowed to attack your own work, but instead you must shower it with love and build it up and improve it.
Then we write for about ten minutes on our theme, stream of consciousness, words on paper, or on tablet, whatever.
Then we pick the best bits from our writing and we arrange them in order; verse and chorus; we put a song shape on the writing.
Then we set them to music by singing them. The first thing that comes into your head is the way I prefer best, to move forward in a smooth manner without stopping to think.
A magic happens at these workshops which comes from a mixture of creativity, enthusiasm, positivity, poetry and music.
QUOTES FROM PREVIOUS PARTICIPANTS
"I wanted to say that John Spillane is an incredible inspiration and has a great way of empowering writers to feel positive about their efforts, comfortable about sharing and unearthing creativity. He does this through his positive attitude, encouragement, through modelling, and by sharing his own work and experiences. What a resource and talent to have. Thanks John and the Munster Literature Centre."
"I really had no idea what to expect apart from the chance to spend some time with the great John Spillane. His energy, enthusiasm and determination to help us write songs was so compelling that we just had to write songs! Whatever stage of song writing you are at I cannot recommend this course highly enough. The price point and value is spot on, in truth John's spontaneous performances of his songs was worth the course fee alone!"
"What a great experience, I am happy that I got to do it and it was not as stressful as I had imagined. John made it feel magical and this was transposed in song/songwriting and many magic moments shared by all. His enthusiasm for the spoken word was evident with his helpfulness and experience."
OTHER DETAILS
For all booking queries, email info(at)munsterlit(dot)ie
Payment accepted by cheque/postal order (made payable to the Munster Literature Centre) or via PayPal (link provided on email enquiry).
Cancellation Policy: After you have paid for the workshop, should you have to cancel for any reason, we will exercise our best efforts to find a participant to replace you. If we can do so, we will refund your tuition payment. If we cannot replace you, we will not refund your tuition payment. The later the cancellation date, the more difficult it is for staff to find a qualified participant. Though we do recognize that emergencies happen, and we will do our best to help you, we cannot guarantee that we will be able to replace you in the event of cancellation.
Your workshop place will be secured only after full payment: Every effort will be made to make sure that the programme proceeds as advertised but the Munster Literature Centre accepts no responsibility for changes made due to circumstances beyond our control. Refunds will be given only if a workshop is cancelled. As workshops sell out notification of such will be posted on this page.
John Spillane is a musician, songwriter, performer, recording artist, storyteller, poet and dreamer. Rooted in people, place and story, his music transports the listener and his live performances captivate audiences around the world. Read more about him here.