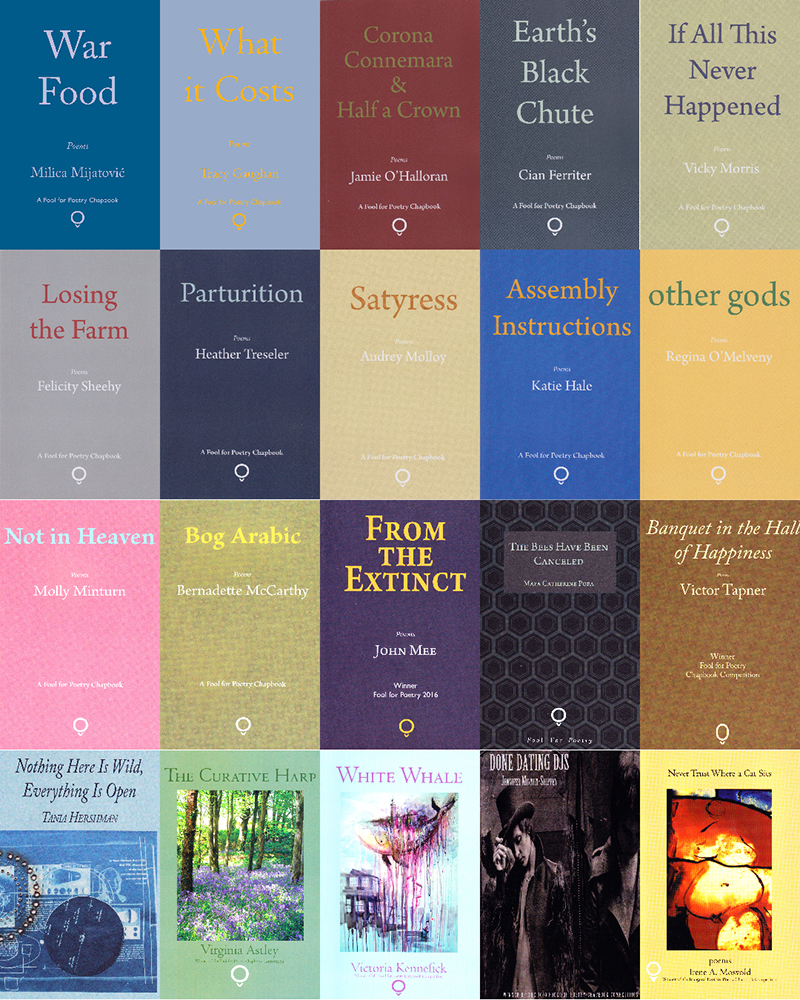 Fool for Poetry International Chapbook Competition
Open for entries 1 June – 31 August
Page limit: 16 – 24
Closing date: 31st August
Entry fee: €25 per manuscript
The competition is open to new, emerging and established poets from any country. At least one of these winners will be the highest scoring manuscript entered by a poet with no solo collection (full-length or chapbook) previously published. The other winner may have previously published poetry books. Up to 25 other entrants will be publicly listed as "highly commended".
Manuscripts must be between 16 and 24 pages in length, in the English language and the sole work of the entrant with no pastiches, translations or versions. The poems can be in verse or prose. Any number of the individual poems may have been published before in journals, anthologies and periodicals – the only restriction is that they cannot have appeared together as a book before. Entrants may submit more than one entry. Once entered, no alterations can be made to the submission. Simultaneous submissions are accepted but please notify us immediately should your manuscript be accepted elsewhere. The winners will be selected by a panel of renowned poets.
The winning chapbooks will be published by Southword Editions and launched at the Cork International Poetry Festival. It will be offered for sale internationally through our own website, Amazon, and in selected independent book shops.
Prizes
1st Prize:
2nd Prize:
Submission Details
Email entry
Send to: foolforpoetry@munsterlit.ie
Subject: FFP entry
Attachment 1: the manuscript of 16 – 24 pages for submission (Word / RTF/ ODT – we cannot accept PDFs). As the competition is judged anonymously, we request that you do not write your name or personal details anywhere on this document. Title and contents pages are optional and do not count towards the overall page limit. Please do not include acknowledgements.
Attachment 2: cover letter (separate text document attached to the same email, not in the body of the email). The cover letter should include:
Your name
Chapbook title
Email address
Email associated with your PayPal account (if different from your contact email address)
Phone number
Postal address
Image of PayPal receipt or the PayPal transaction ID number
How your heard about the competition
A brief bio (optional)
Payment of the €25 entry fee can be made through PayPal. PayPal will deduct the fee in your own currency.
Postal Entry
Manuscript of 16 – 24 pages for submission (typed). To ensure anonymity, please do not write your name or any other personal details on the manuscript. Title and contents pages are optional and do not count towards the overall page limit. Please do not include acknowledgements.
Cover letter: see required details above. Cover letter should be on a separate page to ensure anonymity.
Payment: If you have paid through PayPal, please quote the PayPal transaction ID in your cover letter. Alternatively, we accept cheques or bank drafts payable to "Munster Literature Centre" in Euro, U.S Dollars or Pounds Sterling at a rate of €25 EUR, $30 USD or £25 GBP for each entry. We also accept postal orders from the Republic of Ireland only. Please note that we cannot accept cash payment or Western Union money orders.
Send to:
Fool for Poetry Chapbook Competition,
The Munster Literature Centre,
84 Douglas Street,
Cork, T12 X802
Ireland
Please do not send entries by registered post. Unfortunately, we are less likely to receive entries sent by registered post and your submission may be ineligible due to the delay incurred.
If you would like us to send you confirmation of your postal entry, please include a self-addressed stamped postcard or envelope (if posted within Ireland). We can confirm the receipt of international entries via email.
Postal entries postmarked on or before 7th September (even if received by us after the deadline) will be accepted.
More about the competition
The Munster Literature Centre established the Fool for Poetry Chapbook Competition in 2005. The competition did not run from 2010-13. It was reintroduced in 2014 as a yearly competition.
Due to the large volume of entries, the judge will not be able to notify the authors of non-winning entries or give individual feedback. A shortlist will be posted on our website homepage by late January / early February, with winners contacted before the public announcement. We recommend following us on social media or signing up for our newsletter to stay up to date with all competition developments directly:
The Munster Literature Centre is a not-for-profit organisation; all money raised from the competition benefits writers and writing.
Previous Winners